AKTINA FM GREEK AMERICAN INTERNET RADIO
MISSION, VISION & VALUES

To promote and enhance the knowledge about Hellenic culture, Greece and Cyprus, provide vital news and information of interest to Greek and non-Greek speaking listeners in New York City, nationally in the U.S.A and worldwide and to support Greek and Cypriot Americans preserve their ancestral roots and culture.
IMPLEMENTING OUR MISSION & VISION:
AKTINA FM pursues its mission with integrity and respect striving always to preserve and further strengthen the trust and respect it has earned over the years from the vast and diverse audience it services as the only true bilingual New York-based Greek American Radio in the U.S.A and worldwide.

Employing an innovating bilingual – language format which expands opportunities for wider audience participation and interaction, and with a vision of being an essential and independent source of news and cultural programming, AKTINA FM creates and delivers content that: Informs, inspires, enlightens, connects and entertains its listeners nationwide in the U.S.A and worldwide; enriches the knowledge and provides better understanding about Hellenic culture, Greece and Cyprus; supports Greek and Greek Cypriot Americans to preserve their cultural inheritance and strengthen their bonds with their ancestral roots; delivers vital news and information and public platforms that engage its diverse audience in healthy dialogue and explores a variety of issues, topics, events and happening of wide public interest.


With the slogan, "AKTINA FM, The Smart Choice," our Radio Station has grown to become a leading "voice" for millions of listeners within its home base in New York City and worldwide. Recognized and multi-awarded for its contributions as an important Greek American Radio broadcaster, AKTINA FM remains committed to continue its public service mission of delivering unique and highly desired content. AKTINA FM also strives to remain the "Alternative Voice and the Smart Choice" for lovers of Greek music and culture and for listeners who seek some sense of community.
WE PUT FORTH OUR VALUES ON AIR
Through unique cultural programs, we create a deeper understanding of the rich history, folklore, customs and traditions of Greece and Cyprus. We entertain the mind and make the spirit more joyful through the power of music with the finest selections of Greek songs, music and timeless international classics. We cherish democracy and the freedom of speech, and we offer platforms for discussion, expression and debate. Employing an innovating bilingual-language format that embraces all listeners, AKTINA FM has become an important media source and a household name for Greek and non-Greek speaking audiences locally in the U.S.A and worldwide. By removing the "language barrier" AKTINA FM brings together a wide and diverse audience and provides a sense of community through open dialogue that leads to deeper understanding of one another.

We greatly value everyone who visits and uses this website, and all other related websites that stream AKTINA FM, and we always strive to make everyone's visiting experience pleasant, fun, accommodative, smooth and safe. All of our websites are secure and the Security Symbol is visible on the top left of our URL (website address). None of our websites use cookies and we offer user-friendly web technologies, including "Screen Reader" for the visually impaired. The "Screen Reader" is a very assistive technology with text-to-speech, text zooming and sound which is essential to people who are blind, as well as very useful to people who are visually impaired. Our "Screen Reader" is visible on the lower right side of our Homepage on each of our websites, including this one.
WE VALUE YOUR PRIVACY: Your privacy and security is of outmost importance to us. In our Privacy Policy we disclose the practices and security measures we use to protect your privacy and security when you visit and use our websites.
VIBRANT PRESENCE SINCE 1993
AKTINA FM, the first and only true bilingual Greek American Radio, delivers exceptional public radio programming and content for wide and diverse audiences in the New York City Metro area, nationwide in the U.S.A and worldwide over the Internet since 1993. It was founded and established on the FM dial and online by Elena Maroulleti, an independent journalist who is also the Producer and Host. It is owned and operated by AKTINA Productions, Inc., a non-profit and tax-exempt 501 (c) 3 Media and Arts Cultural Organization. AKTINA FM is preserved on the air through the generous contributions of its listeners and through underwriting. It was launched on New York's public station WNYE 91.5FM in May of 1993 and soon after online. In late 2016 AKTINA FM became a full grown 24/7 Online Radio Station streaming nationwide in the U.S.A and worldwide. Considering the unlimited advantages and benefits AKTINA FM enjoys as an online broadcaster, and more importantly the vast growth of its audience locally in the NYC Metro area, nationwide in the U.S and worldwide, the decision was made in early 2021 to suspend its programs on 91.5FM which run for 28 consecutive years. During this transition, AKTINA FM successfully managed to migrate from 91.5FM to its online platform some 1M of its already established listeners from the Tri-State area of New York and beyond.
OUTREACH - LEADERSHIP
Streaming 24/7 on a daily basis across thirteen related websites, including this one. All websites streaming AKTINA FM are easily accessible from any web browser "On the Go or at Home," on any desktop, laptop, iPad or any other mobile device including Androids. AKTINA FM brings you special live programs every Saturday from 3:30pm-8pm and every Sunday from 1:30pm-6pm Eastern Standard Time. All live broadcasts of AKTINA FM are archived for a week for interested listeners. If you missed a live broadcast of AKTINA FM, or wish to enjoy them again, please visit our Radio Archives page here. Furthermore, we also archive for a long period our interviews with high profile guests from our series, ON THE AIR as well as, our interviews with high profile doctors from our medical series, PRAISE OF HEALTH.

All 13 websites combined that stream AKTINA FM, reach an audience of some 3.8M. From this diverse audience, some 1M are dedicated listeners from the Tri-State area of New York and beyond. Many thousands of listeners also enjoy AKTINA FM on a variety of smart speakers and devices such as, Amazon Echo (Alexa), Google Home, Siri and on other online radio streaming platforms, including TuneIn which have our permission to stream AKTINA FM.



DISTINGUISHED HONORS
AKTINA FM is the first and only Greek American Radio to have a Street in New York City named after it known as, "AKTINA FM WAY." This honor was bestowed upon AKTINA FM by the New York City Council and the City of New York in recognition of its immense contributions to all New Yorkers as a leading Radio Broadcaster. AKTINA FM is also the recipient of several Congressional Records, Proclamations, Citations and other distinctions awarded by various American elected officials from all branches of the Local, State and Federal Governments.



AKTINA FM RELIES ON YOUR SUPPORT!
CLICK ON THE BOX BELOW AND JOIN TODAY OUR BIG FAMILY OF SUPPORTERS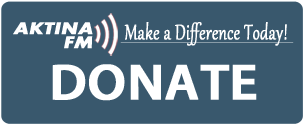 NO CONTRIBUTION IS SMALL!
BRIEF HISTORY
Launched initially as an hourly weekly bilingual Greek American radio show in 1993 on public station WNYE 91.5FM, AKTINA FM was welcomed on the airwaves with unprecedented success by a wide and diverse audience, becoming quickly a very popular and highly rated radio show. Much of its success is attributed to its "unique" bilingual-language format which paved the way for AKTINA FM to quickly expand its broadcasting schedule each time there was a vacancy on the station. By the year 2000, AKTINA FM was already a six-hour live show holding a prime time weekend slot which was further expanded in 2002 to nine hours. In 1994 AKTINA FM also further expanded its presence on the Internet with the introduction of additional live weekend programs streaming under the name "AKTINA NET." In 2000, AKTINA NET was renamed, AKTINA FM Greek American Internet Radio. In late 2016 AKTINA FM became a full-fledged Internet Radio Station streaming daily 24/7.
LIKE US AND FOLLOW US ON FACEBOOK

SUBSCRIBE FOR FREE TO OUR AKTINA TV YOUTUBE CHANNEL
AKTINA FM PRINCIPAL FULL TIME AND PART TIME VOLUNTEER STAFF
Elena Maroulleti, Founder, Executive Producer and Host (full time), Vlassis Anastasiou, host of "AKTINA's Sports" (part time), Caroline Ioannou, Senior Production Assistant (part time), Tom Stouras, Radio and TV Production Support and Videographer (part time), Penny Chapman, Elpida Tsoulogiannis, Production Assistants (part time) and John Ladley, Chief Engineer (part time). AKTINA FM is also supported by a team of seasonal Interns and other volunteers.